The third E-Hybrid Cayenne for 2024 is available with SUV or Coupe styling and features a 25.9 kWh battery pack.
The Porsche Cayenne S bridges the gap neatly between the base Cayenne and spicy Cayenne Turbo, and with new hybrid trims in the mix for 2024, it's time to build a new bridge. Say hello to the 2024 Porsche Cayenne S E-Hybrid, bringing more power and tech to the middle-child model.
How much power are we talking about? Porsche promises 512 horsepower and 553 pound-feet of torque in this hybrid Cayenne, resulting from the fusion of a turbocharged 3.0-liter V6 and a single electric motor. The engine accounts for 348 hp, with 174 coming from the motor for the combined 512 hp figure. Porsche is keen to point out this is a healthy bump over the twin-turbocharged 4.0-liter V8 in the non-electrified Cayenne S, and as such, the hybrid is a bit quicker. The sprint to 60 mph takes an identical 4.4 seconds, but the quarter-mile arrives a bit sooner at 13 seconds flat.
That would likely be range-topping performance for many brands, but in the Porsche family, it's in the shadow of the 729-hp Cayenne Turbo E-Hybrid. However, it's a bit more than the Cayenne E-Hybrid that debuted earlier this year, and you also get the standard-issue two-chamber, two-valve air suspension system underneath. It supports the powertrain, which includes the same 25.9 kWh used in the other E-Hybrid trims. It can fully recharge in two hours on a Level 2 charger, though Porsche still isn't ready to talk about range. A company spokesperson told Motor1.com that range information won't be announced until the spring of 2024.
The Cayenne S E-Hybrid wears the same facelifted exterior of other 2024 models, though it does get snazzy 20-inch Cayenne S wheels and quad exhaust tips at the back. SUV body styles get a standard Silver exterior package while the sportier Coupe is dressed with black trim. Matrix Design LED headlights, eight-way power seats, the Sport Chrono package, keyless entry and start, and Lane Change Assist are all standard, among other features.
Our Take On Porsche: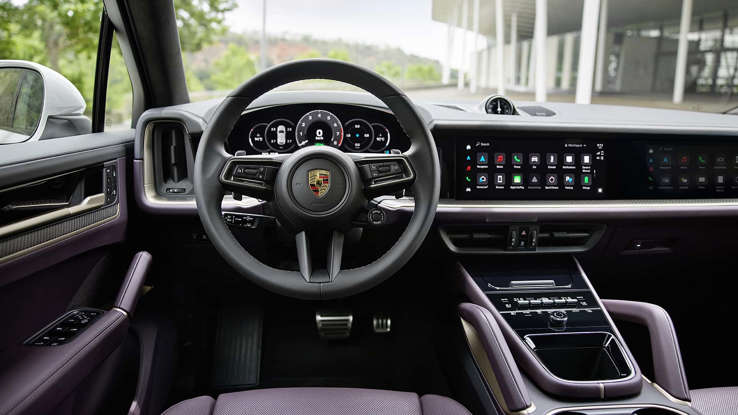 The base price for the 2024 Cayenne S E-Hybrid is $99,100. That doesn't include the mandatory $1,650 destination fee, which raises the sticker to $101,750. As expected, the sleeker Cayenne S E-Hybrid Coupe costs a bit more at $105,650 including the fee. Deliveries are slated to begin in the spring