Kelly Clarkson and Demi Lovato had a candid conversation about mental health and the Black Lives Matter movement during a recent episode of 
The Kelly Clarkson Show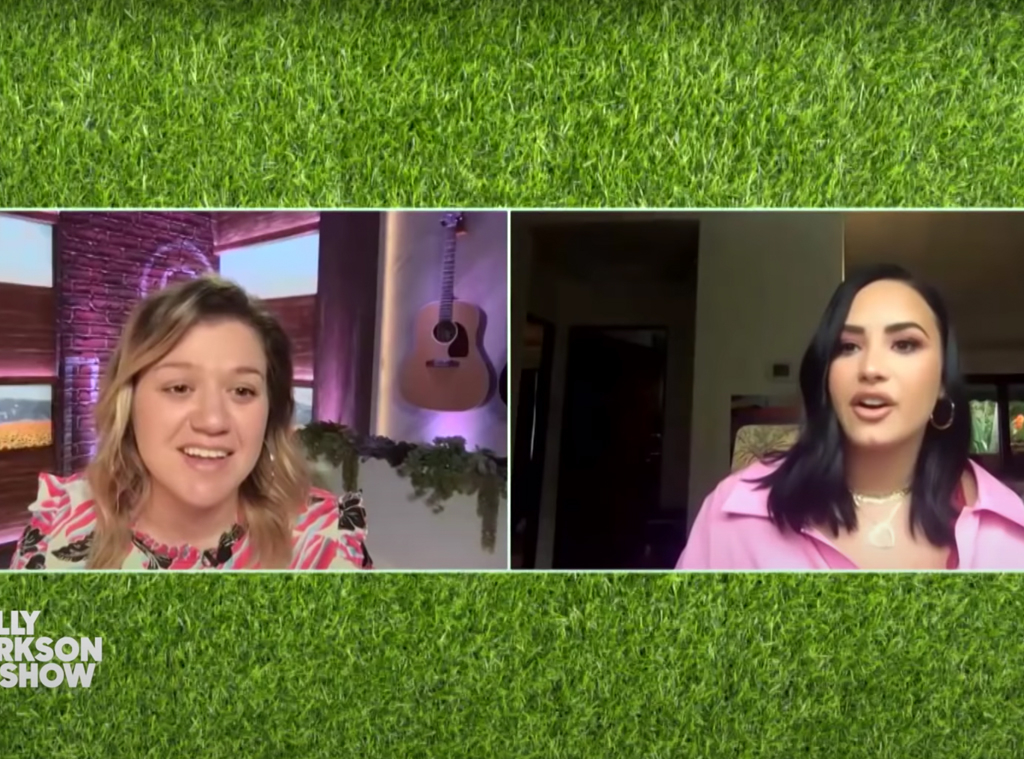 The Kelly Clarkson Show/YouTube
Kelly Clarkson applauded Demi Lovato for speaking about mental health on Wednesday's episode of The Kelly Clarkson Show.
"I love how open you are about mental health because I have similar issues, and I suffer from depression," the 38-year-old singer began. "I think a lot of people, especially in the creative world or just from childhood even, [are] kind of trained to just keep going and 'you can handle it,' especially as a woman it's like, 'Don't let them see you sweat.'"
The American Idol alumna then discussed how "not everybody is as vulnerable" and expressed how sharing her struggles can be helpful for fans in terms of making them feel like they're not alone.
Lovato praised Clarkson for being "courageous" and "genuine," too.
"You were, like, the first idol that I ever had, and I wouldn't be the artist or even the person that I am with being so outspoken, and vulnerable, and fearless if I hadn't had you to look up to," the 27-year-old singer replied.
Clarkson then acknowledged that her mental health journey "takes work."
"Like, even when you overcome something, they're like, 'OK, she's already overcome it.' I'm like, 'No, no that's a daily effort in, like, trying to be positive….That's not, like, a given. Like, you're just over it, and you went to some magical therapy session, and it's over,'" the "Stronger" star continued. "I think that's a daily thing that you work at and a daily thing that I work at."
In addition to talking about mental health, the stars talked about the Black Lives Matter movement. Clarkson asked Lovato what she thought "we can all do differently."
"I think the first step is educating ourselves," Lovato replied. "We have a lot of time on our hands right now. There's no reason why we shouldn't be watching these movies and absorbing all the information that we possibly can about what's going on in the world. And then, from there, we've seen it all over the media that being silent and being not racist is not enough anymore."
Lovato then recalled a post she shared in May after a video of the shooting of Ahmaud Arbery was released online.
"I saw online what had happened, and I felt like this overwhelming sense of, like, frustration [and] anger," Lovato said. "I was, like, crying and I started writing in my phone. I just got out all of my emotions, and I felt guilty that I hadn't been doing more and saying more as an ally. But I was also afraid that people were going to come at me….Because everybody's angry right now, and I didn't want anyone to think I had the wrong intentions or that I was uneducated [or] speaking about something I didn't know about. That was a fear of mine."
Lovato knew she needed to take action.
"So, when that happened, before I found out about George Floyd, I was like, 'No, I need to do more. I need to be an ally. I have not been an ally,'" she continued. "Like Aretha Franklin, Billie Holiday, Whitney Houston, these women of color have shaped my musical journey. And how am I supposed to appreciate what they've given me and not stand up for their community?"
She then explained how she "switched" her thinking.
"I wish I had kind of come to that realization sooner," she said. "But I think everything happens in its own timing and I've now gotten to a place, where, like, because I'm able to deal with my own demons and my own things, I can now kind of help advocate for other people."
"I think maybe that's a reason why some people aren't speaking out and doing things is they're afraid.. but they're also, like, not ready to help other people," Lovato continued. "I don't know. I just wanted to be the ally that I know I can be, and I want to be able to shift thinking as much as possible because the legacy that I will leave as a person will last so much longer than [the] music that we leave behind.