And there's a proper underwear style for each of them but know which one you have.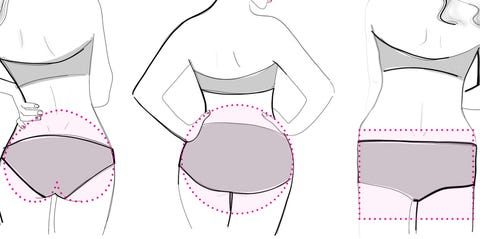 No matter how well you think you know your body, there's a good chance New York City board-certified plastic surgeon Matthew Schulman, MD, knows your butt type even better. Over the course of his career, he's examined an estimated 50,000 butts from 35 countries and almost every U.S. state. And he's personally augmented more than 2,000 of them.
Dr. Schulman says your butt shape is determined by the placement of your pelvis and hip bones, the amount of fat you have and its distribution, the size of your underlying gluteal muscles, and the way your butt muscles attach to the thigh bone. The outcome is a butt that fits into one of five categories.
And in the same way that knowing your breast shape can help you find a flattering bra fit, nailing down your butt shape can determine which underwear styles fit best, according to HerRoom.com lingerie expert Tomima Edmark. So ID your butt shape below, and stick with the recommended underwear styles listed for the most comfortable, flattering fit.
1. SQUARE
If the line between your hip bone and outer thigh runs perpendicular to the ground, congrats, your butt is square, according to Dr. Schulman.
The best bottoms for you: While styles designed to hit high on the thigh can ride up and result in a wedgie, boy shorts, bikinis, tangas, and thongs can be comfortable and flattering for women with square, flat butts. Just steer clear of panties with elastic-edged leg holes, which tend to have extra fabric that can cause awkward bunching.
2. V-SHAPE
If the line between your pelvis and hips angles inward, your butt takes on a "V" shape from behind, according to Dr. Schulman, who says this butt shape is common among women with broad shoulders and very narrow hips.
The best bottoms for you: Stick with briefs, boy shorts, hipsters, or bikinis without high-cut leg holes, which won't provide quite enough coverage for your butt cheeks. Because a V-shaped butt can make your cheeks look like they're sagging, make sure your underwear's leg opening cups the bottom of your buns for extra definition.
3. A-SHAPE
"Pear-shaped" women tend to have A-shaped butts that widen below the hip bones, according to Dr. Schulman.
The best bottoms for you: Because A-shaped butts tend to stem from fuller thighs, the most comfortable underwear styles have high-cut legs with larger leg holes. Stick with tangas, bikinis, or boy shorts made from stretchy lace, or seamless, laser-cut edges — and avoid styles with elastic-edged leg holes, which can be binding and uncomfortable.
4. ROUND
This one is pretty much self-explanatory, but mostly because you've seen this shape on Kim Kardashian, Queen Bey, and J Lo. If you want a rounder butt — which tends to be a popular sentiment among Dr. Schulman's patients — strengthening the butt muscles can give your backside "more projection" without surgical intervention. (May I recommend the #CosmoButtChallenge?)
The best bottoms for you: A round butt requires extra fabric in the back for full coverage — otherwise, the crotch of your underwear will just shift backward, which can lower the front waist band and trigger a frontal wedgie — not cool. Tangas and thongs, as well as briefs and boy shorts with four-way stretch, a center back seam, and — in a perfect world — ruching along that seam are ideal for contouring your butt cheeks. Pro tip: Size up for even more coverage.
5. UPSIDE-DOWN HEART
The ol' upside-down-heart-shaped butt is round without defying gravity. Like round booties, "it involves a curve to the outer hips, but with more volume in the lower part of the hip," Dr. Schulman explains.
The best bottoms for you: Because your butt and hips are full, and your buns are set low, high-cut leg holes might not give your butt cheeks quite enough coverage. Go for briefs, boy shorts, hipsters, or bikinis with a lower-cut leg opening. If you're worried about looking saggy, make sure your underwear's leg openings cup the buns, hitting right below your butt crease for the illusion of an instant butt lift.
Check them Out.