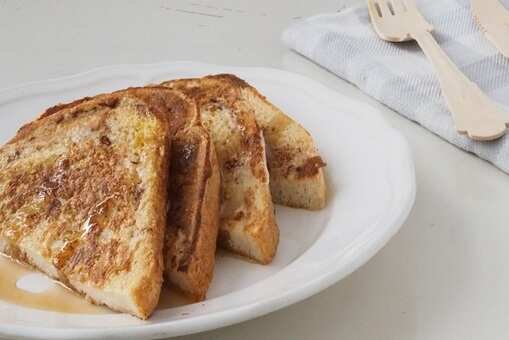 Wondering how to make Sweet Bread Toast at home? Make this 20-minute Sweet Toast Recipe with step by step instructions!
If you love something sweet for breakfast, then this easy Sweet Bread Toast recipe is just for you. If you do not know how to make it, this sweet bread toast recipe will guide every step of the way. Looking for a sweet bread toast recipe with eggs or without eggs? You would be glad to know that you can make this in just 20 minutes. It needs four simple ingredients- bread slices, eggs, milk and sugar. This is an ideal quick snack recipe for your breakfast, evening tea or you can also pack it for tiffin. This simple and easy-to-make sweet toast recipe would be loved by adults and kids alike. Packed with the goodness of milk and eggs, this is an ideal breakfast to kick-start your day. In order to make it more filling and healthy, you can garnish your sweet bread toast with maple syrup or top it with seasonal fruits like banana, strawberries and blueberries. If you are learning to cook, this is one of the best and easy toast recipes you can start with to develop your cooking skills and impressing your friends and family.
How to make Sweet Bread Toast
Step 1 Prepare the egg mixture

Beat the eggs, milk and sugar in a large bowl till the sugar dissolves in the mixture.

Step 2 Soak the bread slices in egg mixture

Soak the bread slices one by one in the mixture and coat them well.

Step 3 Fry the soaked bread slices

Place a frypan over medium flame and add butter in it. Once the butter melts, put a soaked bread slice and fry it for a minute.

Step 4 Repeat with each bread slice

Flip and fry the other side of the bread slice. Repeat the process for all the bread slices. You can garnish the Sweet Bread Toast with maple syrup. Serve hot.
Tips
If you prefer extra sweet bread toast, you can garnish it with powdered sugar.
You can also top it up with butter block.
You can also serve with honey instead of maple syrup.