Delta banga soup is best served with starch or eba.
This is unlike the other banga stew that is native to the Igbos and popularly served with white boiled rice or yam.
This Banga soup is one of many delta state soups in Nigeria. While it is indigenous to the Deltas, it is also loved and enjoyed by both People from Edo state and all over the Niger Delta states. If you are looking to make the Igbo version please click – Igbo Banga Stew.
This is not banga stew but they are both made with similar ingredients. Banga stew is native to the Igbos and usually served with boiled white rice. While banga soup (as in this case) goes with starch, eba or fufu.

The two are prepared the exact same way; the difference is just the spices. This recipe will, in the next few minutes shows you exactly how to make banga soup like an Itsekiri woman.
You can use any combination of meat for this soup or just use plain red meat; I used a combination of cow head, foot, and red meat.
Required Ingredients For banga Soup
Serving: 8 Persons.
Meat (1kg)
Ground Crayfish (half cup)
Fresh prawn [oporo](one cup)
Fresh Palm Fruits (Banga) (10 cups)
1 Medium sized dry fish / smoked fish
Red scotch bonnet pepper "Ata rodo" (6)
Ataiko (1 teaspoon)
Irugege (1 teaspoon)
Oburunbebe Stick (Banga stick) (1)
crushed dried beletientien leaves (half cup)
3 seasoning cubes
I cup shelled Periwinkles
Salt to taste.
What is Banga
Banga is a local name for palm tree in Nigeria. Banga see are palm seed as you can see below, you need them to make a delicious banga soup.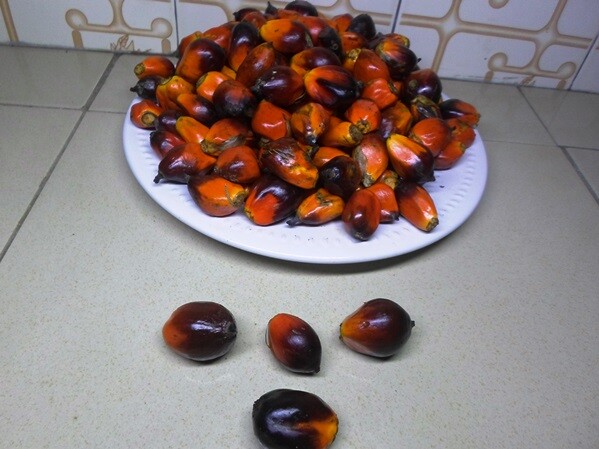 These are banga seeds (Mpuru akwu), they are the major ingredients for making this soup. Akwu is very abundant in Nigerian.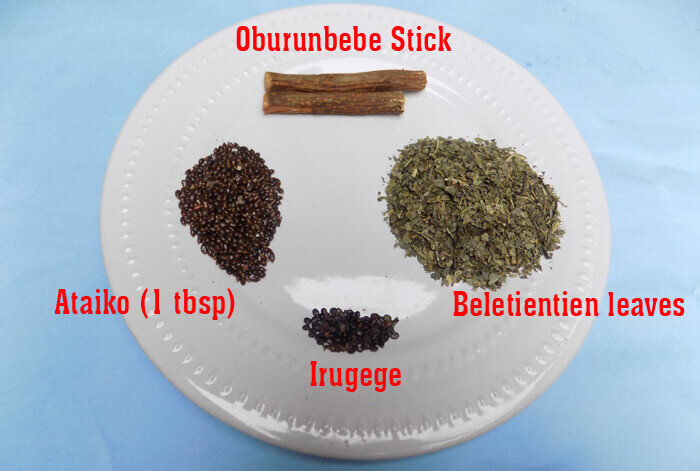 These are pictures of some of the ingredients for this Itsekiri soup. All of these spices and ingredients can be purchased from any Nigerian local market. For the spices and banga stick, ask those women that sell traditional roots and herbs like zobo leaves and dogoyaro.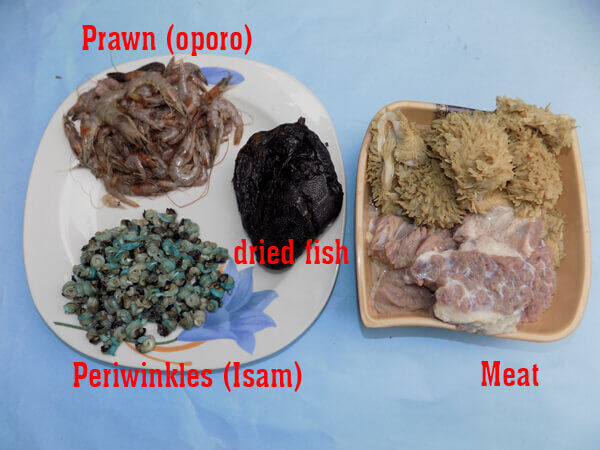 You should use crushed dried beletientien leaves, it is also called atama leaves in Nigeria local markets.
Preparation
Start by grinding the spices. Add them all together (ataiko, Irugege and a cup of crayfish), blend to powder. Blend the pepper also. Wash the dried fish and remove center bones. I used dried catfish. This catfish is actually my favorite, it tastes so wonderful in soups. You need just one. Pour hot water over it, wash and set aside.
Wash and precook the prawn, use half a cup of water, a seasoning cube and a pinch of salt.
Precook your meat, this is how – Wash properly and use two seasoning cubes and a pinch of salt. Cook the meat until it becomes soft, easy to chew and the water is almost dried. Add salt to taste and allow another three minutes. Set aside.
Boil the palm fruit for 20 minutes, pound with a mortar and pestle, transfer into a bowl, add water and extract the juice, don't add too much water, you want it thick. You will need about 7-10 cups of that palm fruit juice for this soup. It should be thick.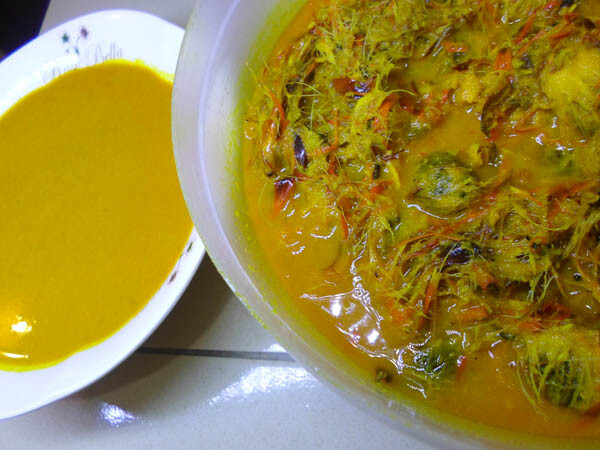 How to cook Banga Soup
Use a sieve to strain the extract into your cooked meat.

Allow boiling for 15 minutes with the pot half-covered. It should be a lot thicker now.
Add the cleaned dried fish, ground (crayfish, ataiko plus irugege), oburunbebe stick, ground pepper, and salt to taste. Cover and allow another 10 minutes. You can add a little water if it is too thick.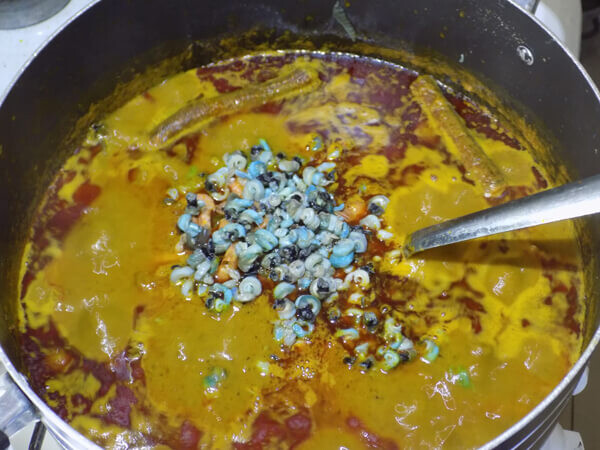 Add the crushed dried beletientien leaves, precooked prawn, periwinkles and one cube of knorr. Stir, cover and allow to simmer for 3 minutes. This is how to make the popular banga soup that is loved and made by the Deltans.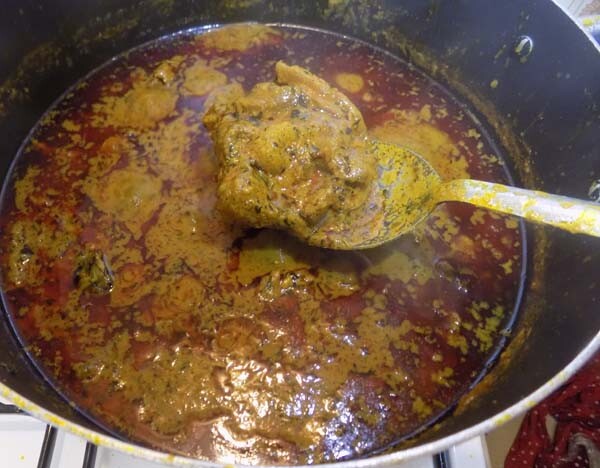 Serve with starch, eba or fufu.